Chiropractic occupies a unique place in today's health care which approaches health in a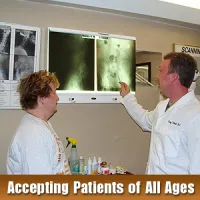 natural, safe, and scientific-based manner. Chiropractic is based on the premise that good health depends in part upon a normally functioning nervous system which controls every function within us, from breathing to walking. Our brain and spinal cord are housed within the skull and vertebrae to protect it from harm.
However physical, emotional, and chemical stress in our daily lives can cause these bony structures to become misaligned causing symptoms ranging from achy, tight muscles to painful sciatica. It is the job of Doctors of Chiropractic to locate these misalignment and restore movement and function to the vertebrae and nervous system.
Our Individualized Chiropractic Care helps:
Neck Pain
Low back/ sciatic pain
Headaches/ Migraines
Numbness and Tingling
Work/Auto Injuries
Extremity problems/ TMJ
Sports Injuries
Preferred provider for most major insurances.